Description
Introduction
BEVS Non Contact Automatic Color Measurement Machine (NCACM) is an intelligent and automatic non-contact color measurement system based on BEVS intelligent control system and spectrophotometer. It has high integration and scalability. BEVS NCACM is able to realize continuous and fast non-contact measurement and the efficiency increased by more than 60%. It can also reduce the damage and scratch when contacting the sample during measuring. BEVS NCACM has a more prominent advantage in measuring small sample,it can measure many samples at a time with fixture.
Construction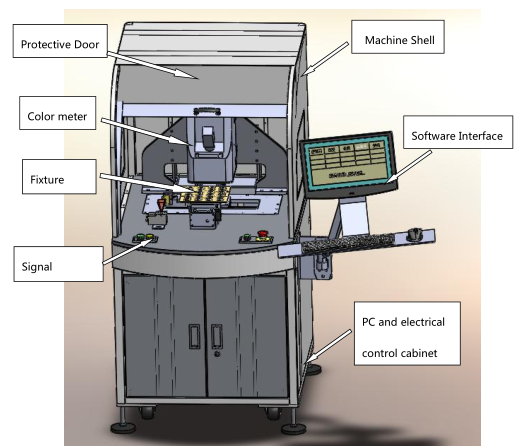 BEVS 3212 NCACM machine is mainly composed of color  measurement module, XY axis module, sample fixture, software interface display, PC case and electrical control cabinet. The color measurement module is composed of a spectrophotometer and a Z-axis motion module. The spectrophotometer is installed in the Z-axis module. The control system can control the upper and lower motion. The sample fixture is fixed on the XY-axis module. The control system can control the movement of the sample fixture at any point on the XY-axis plane.
Software System
Operator can control the spectrophotometer, BEVS automatic measurement control system and USB Camera by PC.
The functions of the software:
1) Calibration of Spectrophotometer, real-time control of color  measurement and data.
2) Programming control of BEVS automatic measurement and control system XY axis module positioning to coordinate (X, Y) points.
3) Connecting USB Camera to assist verification and positioning.
4) Programming measurement program
5) Real-time display of measurement results and save
6) Output testing report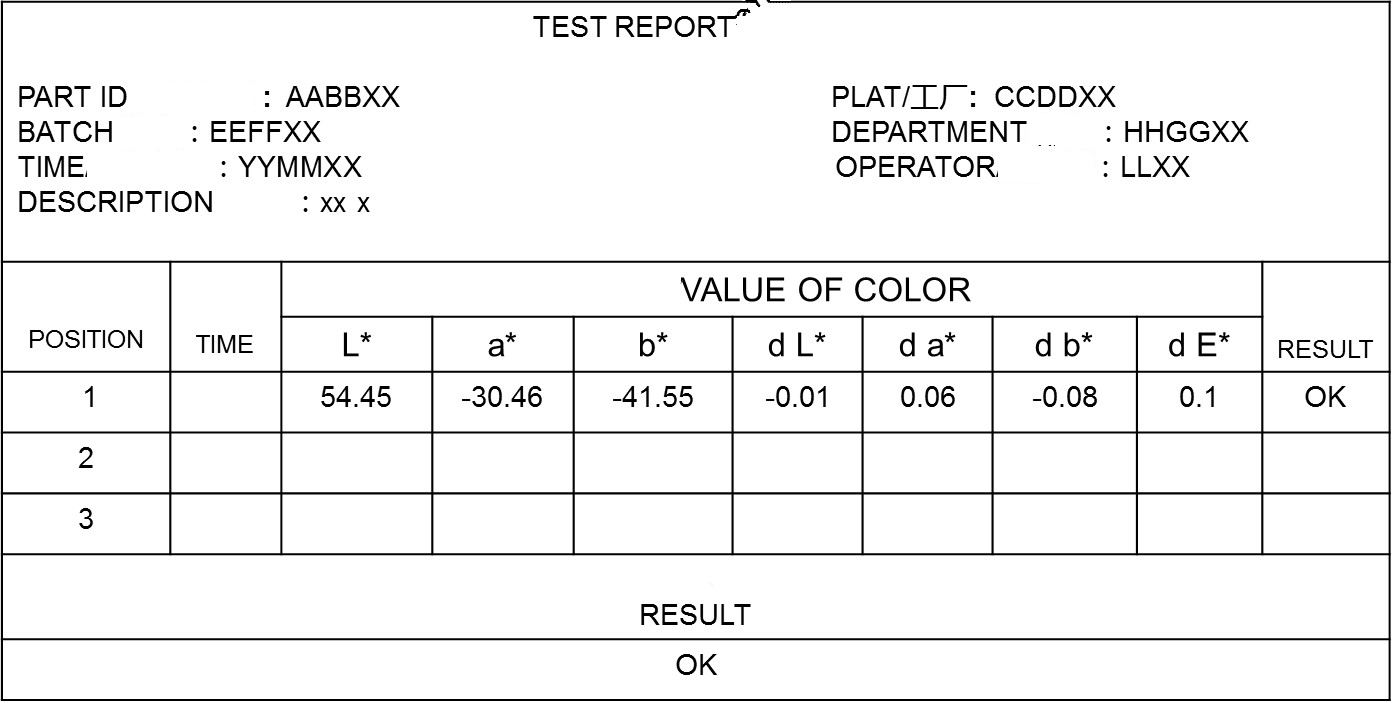 Specification
No.
Description
Specification
1
Single   measurement time
0.2s
2
Min   measurement interval
0.2s
3
Min measurement   area
0.75 x 1mm
4
Max sample size
180 x 180mm
5
X axis speed
10-500mm/s
6
Y axis speed
10-500mm/s
7
Z axis speed
10-100mm/s
8
Accuracy of color meter
△E*ab<0.2
9
Repeated positioning accuracy of XY axis
0.1mm
10
The distance   between sample surface and measurement port of color meter
1±0.2mm
11
Gross weight
180 KG
12
Input electricity
Voltage:220V/50Hz

Power:450W

13
Working Temperature
15-30℃
14
Humidity
20-80% RH (No condensation)
15
Dimension
LxWxH(980x730x1550mm)
Order Information
BEVS 3212 Non Contact Automatic Color Measurement Machine
(Enable to customize upon requirements